Friendly atmosphere
 

Exchange with language partners
 

Personal tutoring by Japanese lecturers
 
Nihongo Space
Nihongo Space is here to offer you support to help you brush up your Japanese skills, such as giving advice on how to study Japanese, providing opportunities to practice Japanese conversation, offering tutoring in written Japanese, etc.
Currently, we are accepting online participants as well. If you want to participate in our activity online (Zoom), please contact us by
email
.
Open hour and Venue:
  (As for the closed date, please see the schedules below.)
How to apply for Conversation practice:

You can practice Japanese conversation with language partners (Tokyo Tech students).
Just drop by at the Student Lounge during the open hour.



How to apply for Personal Tutoring:

You can get personal tutoring from Japanese lecturers.
They can help you correct your writing, and can give advice on how to study Japanese.

How to apply: Fill in your nickname and your request in your preferred timeslot on Nihongo Space Reservation Sheet.

* Your applications are accepted on the first-come-first-served basis, however, we might prioritize the new comers when the number of applicants exeeds the quota.
* Please make sure that you do not overwrite the existing applications.
* When you decide to cancel, please delete your application on the Reservation Sheet ASAP for yourself.
* When there is a vacancy, we might accept your application on the spot, however, those who have prior reservation will be prioritized.
* Schedules of Nihongo Space in 2023:
1Q
Apr. 19 ~ May 31
* Closed on May 3/4
* Closed at 13:00 on May 18 as we are holdig other int'l. exchange events.
2Q
Jun. 14 ~ Jul. 27
* Closed on Jun. 29
* Closed at 13:00 on Jul. 6 and 27 as we are holdig other int'l. exchange events.
3Q
Oct. 11 ~ Nov. 16
* Closed on Nov. 8 due to Disaster Drill at Tokyo Tech
4Q
Dec. 6 ~ Jan. 25
* Closed during Dec. 27 ~ Jan. 3,4 (Winter Break)
(The above schedules might be changed at our convenience.)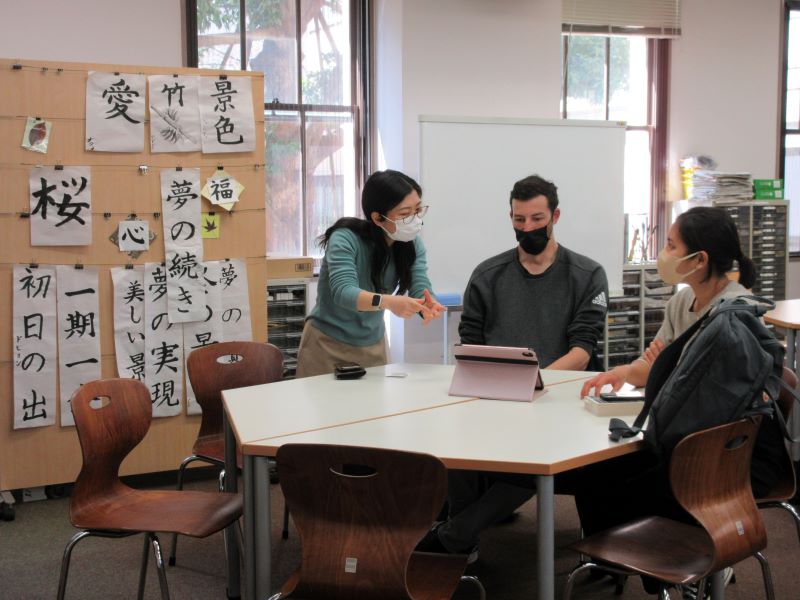 Nihongo Space at Japanese Section of the Institute for Liberal Arts, Tokyo Tech
Contact address: nihongospace#js.ila.titech.ac.jp
(Please change "#" to "@" when you email)
(Support offered for Japanese language study and cultural exchange before the classes begin in 1Q)

Activities in 2019 3Q/4Q  -> Click here!